What are the best hashtag practices for social media?
What are the best hashtag practices for social media?
Twitter
How many hashtags per post:
Research shows that the optimal amount of hashtags is two. Over that, the tweets have a significant drop in engagement.
How to find the best hashtags around
It's important to make sure people are engaging with the hashtags you use. A great place to start is Hashtagify it allows you to check the popularity and recent popularity to know if your hashtag is relevant.
Where to place them
While you are more limited on Twitter with the amount of #'s you are less confined as to where they should go. It can be used at the end of a Tweet or incorporated as part of the sentence.
How many hashtags per post
The more hashtags you use, the more engagement you see – up until a certain point. After about 10 hashtags, you risk losing out on some of that engagement.
How to find the best hashtags around
Head over to the search box and check what your audience, competitors, and industry leaders are already using. Pay attention to the number of posts, and how many likes the first images received.
Where to place them
In order to keep everything organized and neat, it's best to put your hashtags at the end of your caption preferably separated by either dots or asterisks. If you're a neat freak, you can also add your hashtags in a comment to your post.
Facebook
Believe it or not, hashtags are not important on Facebook. We recommend limiting the number of hashtags to a minimum. Indeed, concise captions tend to perform better on this platform. Of course, using your 'brand-specific hashtags' won't hurt.
LinkedIn and G+
Same as for Facebook: hashtags can be added, but they don't really have an effect on your post.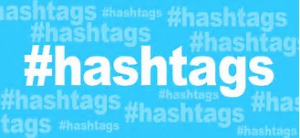 Pinterest
How many hashtags per post
Pinterest themselves recommend you add no more than 20 hashtags per Pin.
Where to place them
Hashtags only work within the Pins' descriptions.
How to use hashtags wisely?
To create a hashtag, all you need to do is include a '#' and a relevant keyword or phrase.
What you may not know is that not all hashtags are born equal!
In fact, they are only powerful when handpicked and used wisely and there are two crucial general tips that apply to all social media and businesses:
Keep it short
To save everyone the headache, don't try and squash too many words into one hashtag as nothing turns people off more than overly lengthy hashtags #YouDontWantToTryThisAtHome
Don't overuse Hashtags
Another thing you may want to avoid is writing your entire caption with one hashtag per word. #Because #its #not #really #fun #to #read #like #this #is #it?
The number of hashtags you can allow per post depends on each channel but as a general rule of thumb, only put a hashtag next to a word that are really significant.
Think strategically
This applies to the 'content hashtags' as since you won't have created them they are probably used by other brands and when a hashtag is overcrowded, you can be sure that your content will go unnoticed.
Therefore it's highly recommended to mix content hashtags with a high volume, with other hashtags that are more specific. For example, let's say you have a restaurant and you want to post a picture of your latest curry dish on Instagram.
#Food is an obvious choice, but with over 258 million posts using it you have no chance to stand out. Try and find more 'niche' hashtags, such as #korma or #kormaday.
As is often the case some desk research will go a long way and Hashtagify is a good place to start.
If you have any thoughts or comments to make on #hashtags we would love to hear from you